Travel
Park MGM: The Vegas Strip's Newest Luxury Resort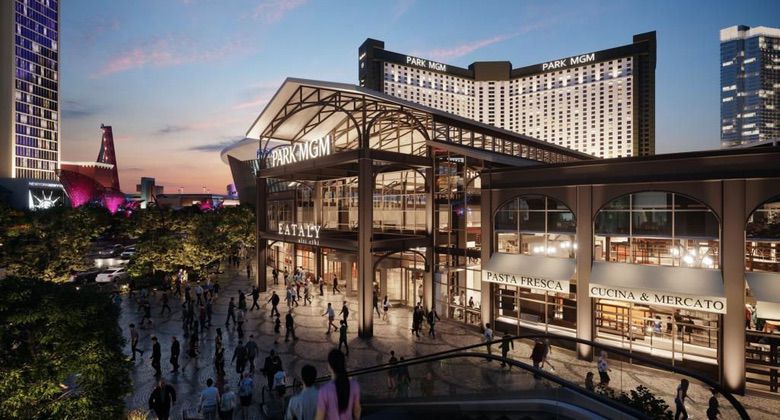 Last week, I joined the Trail Trek Tour in Las Vegas to attend the SEMA Show and do a little off-roading in the Nevada mountains. The Park MGM were our gracious hosts for the week. While Park MGM comped me for my room and meals, I was not compensated for this story and all opinions are my own.
The Resort
The Monte Carlo has been a mainstay on the Vegas Strip for the past 21 years. But with a bit of a renaissance springing up around it with the T-Mobile Arena and the immersive outdoor dining and entertainment destination The Park, MGM Resorts decided it was time to show a little love to the aging resort. The result is a $450 top-to-bottom transformation into the Park MGM. While the resort is still in the middle of this major renovation, the lobby, rooms and pool area are complete, and I encountered no major inconveniences. Interestingly, 300 rooms on the top floors have been transformed into NoMad, an ultra-luxurious hotel-within-a-hotel with separate entrance, restaurant, and pool. I'll try to arrange a review stay at NoMad at a future date.
The Room
My standard room included a comfortable king-sized bed and a large LED TV. While there was not a desk, there is a full-width bench seat with a large oval table and heavy, comfortable leather club chair. I prefer this arrangement as I was more comfortable and had more room than is usually provided with a dedicated desk. The renovation also added plenty of much-appreciated power outlets and USB ports above each nightstand and in the seating area.
Although my view was to the rear of the resort, I preferred this to a Strip view. I had great views of the pool area and the stunning Aria next door.
MGM Resorts Intl.

MGM Resorts Intl.

MGM Resorts Intl.
The Spa
As the members of the Trail Trek Tour were arriving throughout the day, the Park MGM scheduled a custom massage for me at the Park MGM Spa. I was a little nervous given that I was only six weeks out from a total hip replacement and was still experiencing some pain and stiffness. When I explained my situation, my massage therapist let me know that she is a certified physical therapist and knew exactly what to do. What a relief that she was so in tune with what I was feeling that she recognized when I was starting to feel a little discomfort and had me change positions. One of the best massages I have ever had and highly, highly recommended.
MGM Resorts Intl.

MGM Resorts Intl.
Mandalay Bay
Our first night's festivities had us piling into limos for a short trip down to Mandalay Bay for dinner and a show.
Libertine Social
Dinner was the Libertine Social Gastropub at Mandalay Bay. I call it dinner, but that's an understatement. Our hosts wanted to make sure we got a full sampling of the menu, so we were presented with, 7 appetizers, our chosen main course, 4 side dishes and 5, count 'em, 5 desserts. While I was limiting myself to a bite or two each to save room for what was to come, this approach allowed me to try delicious menu items I would have otherwise never ordered. New favorites such as the Caviar "Fried Egg" pictured below and the Yellowtail Cones.
Michael Jackson ONE
Our entertainment was Michael Jackson ONE by Cirque du Soleil at Mandalay Bay. I am a big Cirque fan, but nothing could have prepared me for the opening of MJONE. While there is plenty of Cirque's characteristic acrobatics and aerial performances, this was much more music- and dance-centric performance than other Cirque shows I have attended and it just explodes at you from the first note.
There are depth and heart to this show that I have not seen in other shows. As time passes, it's easy to forget the number of hit songs and even more so, the sheer number of signature MJ moves. The cast of MJONE does an admirable job of evoking the memory of the King of Pop, without just trying to imitate him. In the finale, even though some time has passed since the show opened, watching the main cast dance and interact with a hologram of MJ is still magical.
MGM Resorts Intl.

MGM Resorts Intl.

MGM Resorts Intl.
Juniper Cocktail Lounge
On our final evening, we popped into the Juniper Cocktail Lounge for a quick drink before dinner. As the Juniper name implies, the signature cocktails feature the largest selection of gin on the strip. General manager Michael Pena demonstrated for us the Juniper fortune teller which is based on the paper fortune teller from our childhood. You simply select a gin, then a mixer and finally a garnish. This is a fun way to discover new drink combinations and relieve a little of the anxiety that might come from having such a large number of possibilities. I selected the Momo, a Japanese whiskey, peach, lemon and maple infusion that is served in a sealed glass container filled with hickory smoke. It tasted as spectacular as it sounds, and I will be learning to smoke cocktails soon.
Bavette's Steakhouse and Bar
I must admit, I was looking forward to dinner at Bavette's Steakhouse from the moment I received our itinerary. Having moved to LA from Chicago two years ago, I couldn't wait to sample what the number one rated steakhouse in Chicago had to offer on the Vegas Strip. That's right, number one rated in a city that I would argue is the best steak city in the world. Expectations were high and it's easy to see why Bavette's Las Vegas was named the best new Vegas steakhouse for 2017.
We were told from the beginning that tonight's focus would be on the main course. After a few amazing appetizers (check out the crab cakes, yes, a Chicago-based steakhouse is renowned for their crab cakes), I was presented with my 22 oz. 42-day dry-aged bone-in rib eye. Charred to perfection on the outside and buttery tender on the inside, I savored every bite of this amazing cut of meat. Paired with buttery mashed potatoes, elote style corn and thick-cut maple and black pepper bacon, this was a dream meal for this meat and potatoes Midwestern boy.
Still to Come
As I mentioned, the Park MGM is still a work in progress and there are still exciting additions coming..
In December, a completely redesigned entrance will feature Eataly, a 40,000-square-foot culinary destination, located directly on the famed Las Vegas Strip.
Opening New Year's Eve, On The Record, a speakeasy and club will open. Hidden behind a record store entrance off the main casino floor, On The Record will feature both indoor and outdoor spaces with ample space for dancing or just chilling with friends and exploring their world-class cocktail program.
In February, Britney Spears with open her spectacular residency "Britney: Domination," at the Park Theater. This amazing venue features 5,200 seats with the furthest seat only 145 feet away from the stage. Tickets for "Britney: Domination" are on sale now through Ticketmaster.
Check out my fun little video tour.
To wrap up, we had a great time at the Park MGM. The staff was amazing and with everything still in the pipeline for the next few months, we can't wait for a return trip to the Park MGM to see everything when the transformation is complete.
Park MGM
http://parkmgm.com