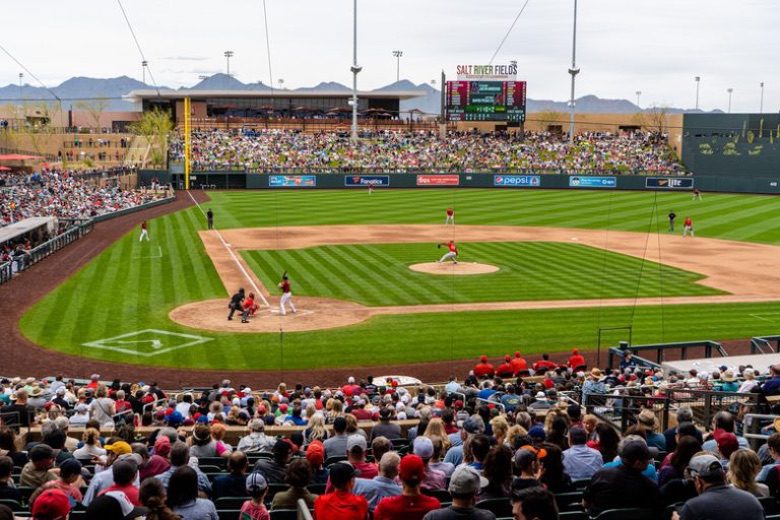 I love my job. Working from home and spending my days and having the opportunity to participate in amazing events and trips is more than I could have ever dreamed of. But there are drawbacks and probably the biggest for me is the sense of isolation I sometimes feel.
I work from my home office and since moving from Chicago to California there years ago, there haven't been many opportunities to socialize with people and get close to from my area. When Toyota reached out to me and asked me if I would like to join them for a road trip from Los Angeles to Phoenix for Spring Training, this seemed like the perfect opportunity for a little male bonding.
2019 Toyota Sequoia TRD Sport
I asked my buddy Ryan if he'd like to join me and like me, a trip to Spring Training has been a life-long bucket list item for him, so we were set. Toyota provided us with the 2019 Toyota Sequoia TRD Sport for our road trip. This is the first time that Toyota has offered a TRD (Toyota Racing Division) package on a Sequoia.
The TRD Sport package includes a new front grille and bumper, larger 20″ alloy black sport wheels, a new smoked rear taillight lens and black satin-finish TRD sport badging inside and out.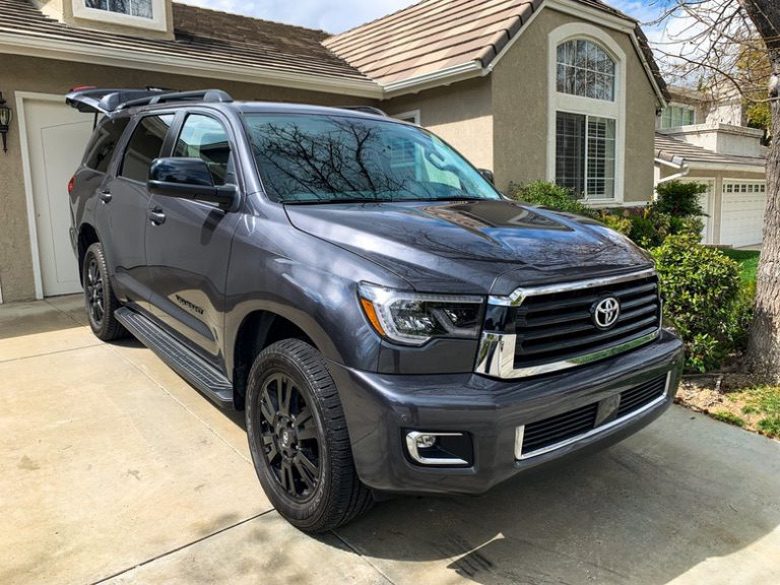 The interior of the Sequoia is one of the roomiest on the market. Our test model included second-row captain seats and power-folding third-row seats. Honestly, I think Ryan could have brought along all of the clothes we own and still had room to spare. If we had brought our wives it might have been another story.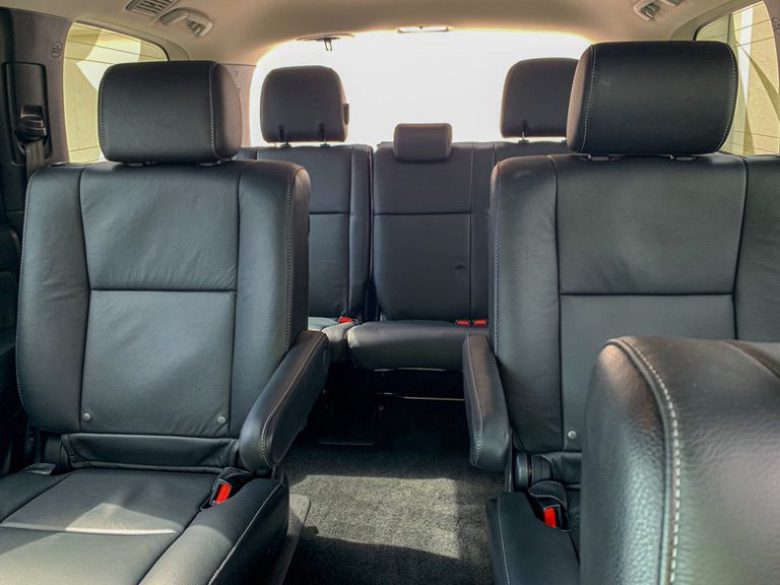 Road Trip to Phoenix
I asked Ryan to meet me at my house at the crack of dawn. We had nothing scheduled with Toyota in Phoenix until dinner and I wanted to do a little exploring in the Sequoia. Sometimes these trips are booked solid with activities from morning till night, but this trip's schedule was a little more relaxed, so we could get quality time with our Toyota vehicles. There were influencers driving in from all over the western United States for this trip.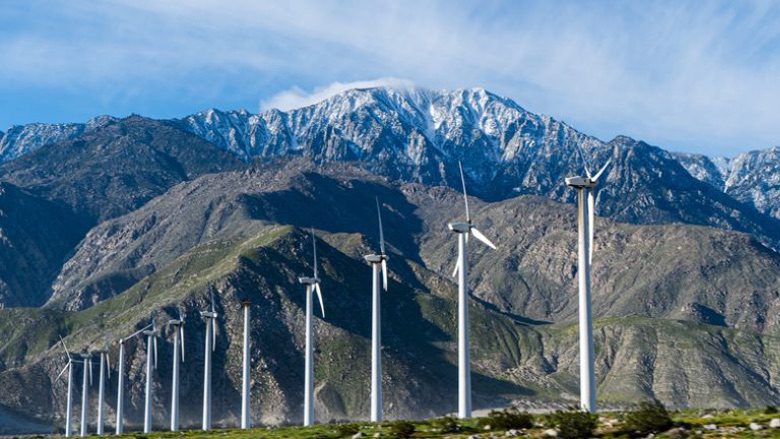 I would start out driving and get us to Palm Springs, a logical "half-way point on our trip, then Ryan would take over until we reached the outskirts of Phoenix. The drive from Los Angeles to Phoenix is really two distinct drives. Palm From LA to Palm Springs you drive along the San Bernardino Mountains. They looked amazing still covered in white after this winter's record-breaking snowfall. The Sequoia rode very comfortable and I loved being able to stretch out and relax.
Toyota Grand Slam Day One
When we hit Phoenix and having a few hours top kill, my friends at Discover Salt River, an enterprise of the Salt River Pima-Maricopa Indian Community, invited Ryan and me to stop by Salt River Fields and catch a bit of a game between the Angels and Diamondbacks. This was Ryan's first Spring Training and we both wanted to catch as much baseball as possible so we were happy to take them up on their kind offer. We stayed for a couple of innings and got a chance to see Mike Trout, baseball's new $430-million-man get a few at-bats.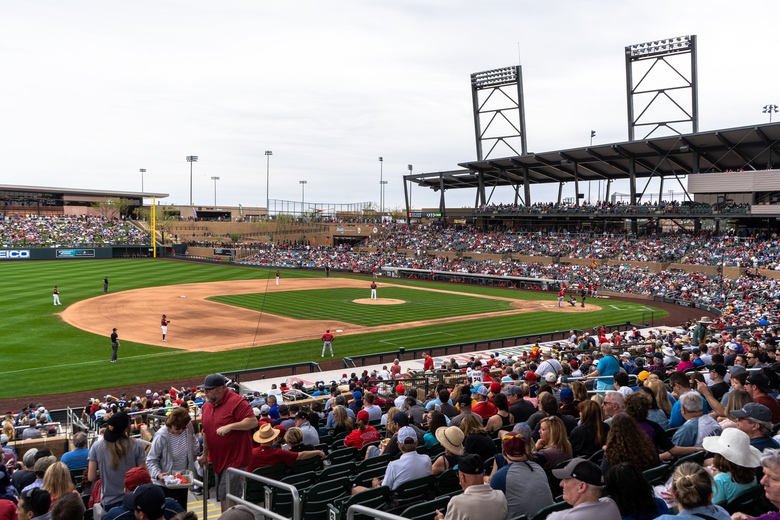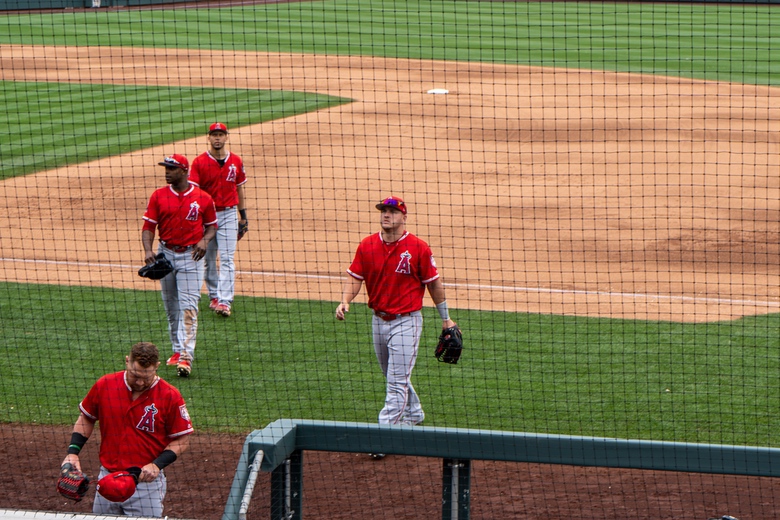 a-buddy-road-trip-to-spring-training-in-the-2019-toyota-sequoia-trd-sport-104
a-buddy-road-trip-to-spring-training-in-the-2019-toyota-sequoia-trd-sport-107
a-buddy-road-trip-to-spring-training-in-the-2019-toyota-sequoia-trd-sport-108
a-buddy-road-trip-to-spring-training-in-the-2019-toyota-sequoia-trd-sport-105
After the game, we headed over to the beautiful Talking Stick Resort, our home for the next few days. Talking Stick Resort offers 496 deluxe guest rooms and suites in a 15-story tower that features sweeping views of Scottsdale's magnificent mountains and vast Valley of the Sun.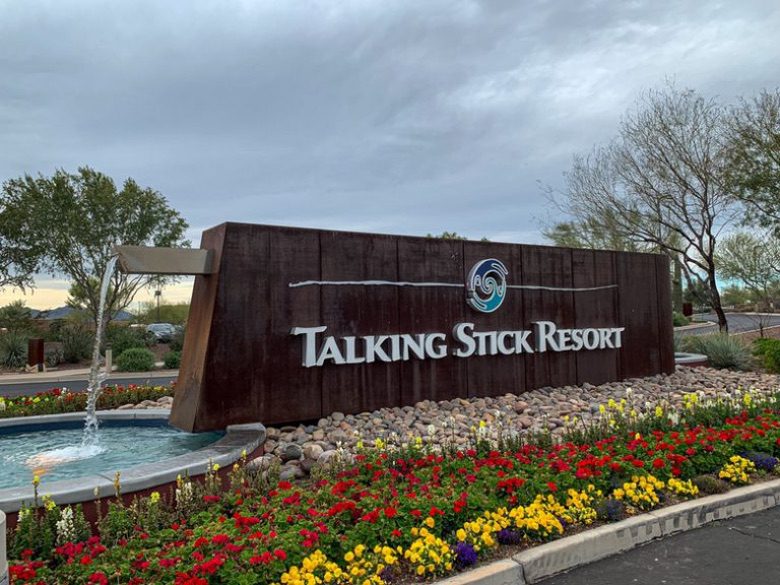 After checking and heading up to our rooms to freshen up, we made our way up to the 15th floor and the fabulous Orange Sky restaurant. Floor to ceiling windows and an expansive outdoor terrace provides the best evening views anywhere in the Phoneix area. We arrived just in time for me to capture the amazing sunset pictured below.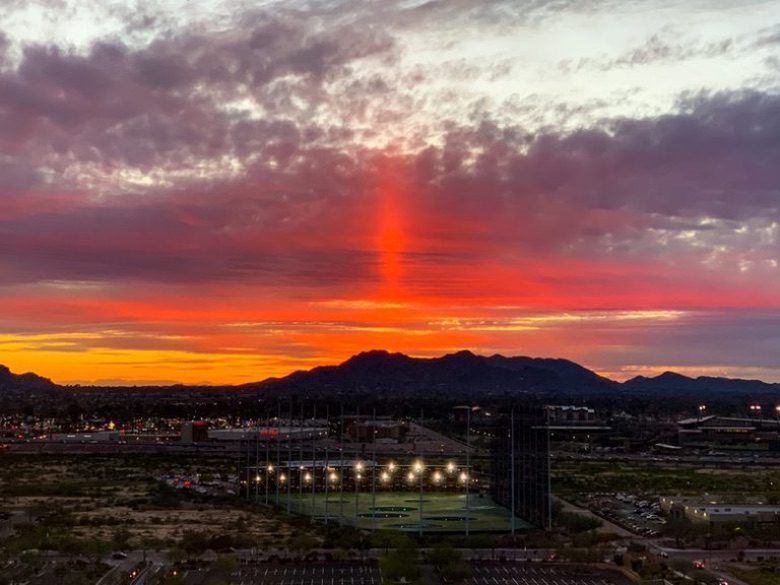 We shared a number of delicious starters and shared plates around the table and for my main course, I chose the perfectly cooked and seasoned beef tenderloin. After our very early start, six-hour drive and several glasses of wine with dinner, we were ready to call it an evening.
Toyota Grand Slam Day Two
Our morning was wide open on the second day of our trip and we wanted to make the most of it. We woke early, picked up the Sequoia from the complimentary valet service at Talking Stick Resort and headed to one of my favorite places, the Superstition Mountains in the Tonto Nation Forest. This is the perfect place to get the Sequoia TRD Sport off the pavement and get a few scenic photos at the same time. The Sequoia, as the TRD Sport moniker indicates, is an extremely capable off-road vehicle. We traveled down dirt and rocky trails and always felt in complete control.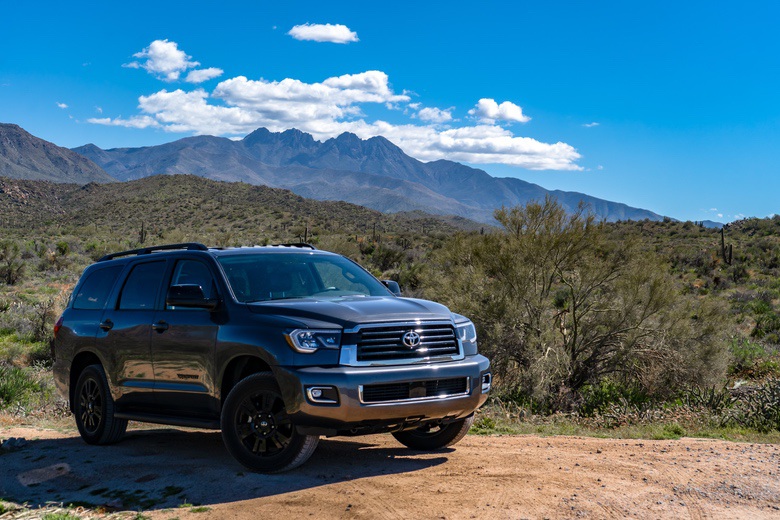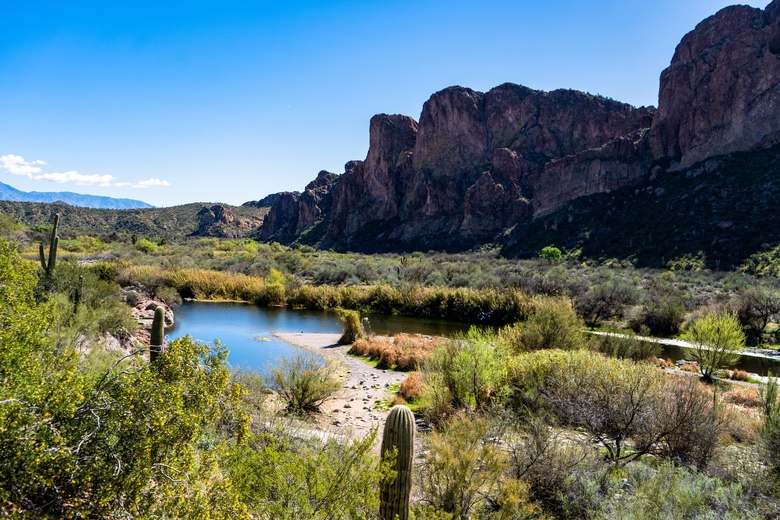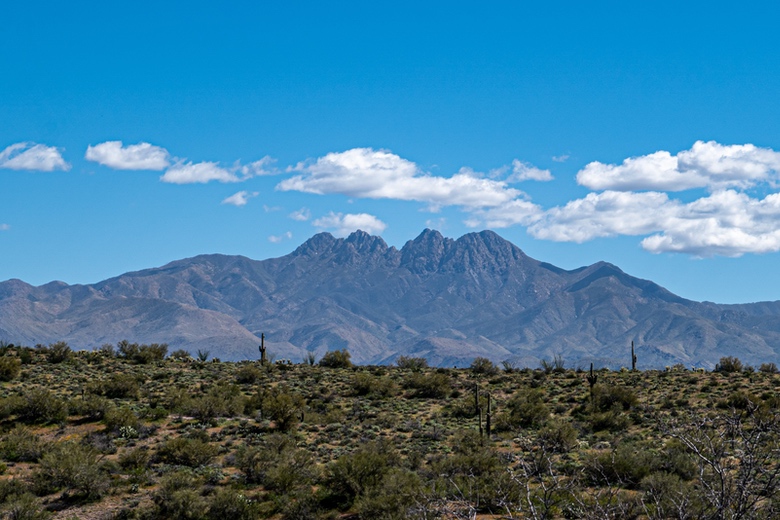 a-buddy-road-trip-to-spring-training-in-the-2019-toyota-sequoia-trd-sport-111
a-buddy-road-trip-to-spring-training-in-the-2019-toyota-sequoia-trd-sport-109
a-buddy-road-trip-to-spring-training-in-the-2019-toyota-sequoia-trd-sport-110
After cruising around the Superstitions for a few hours, we headed back to Talking Stick to get ready for that afternoon's between the Diamondbacks and Dodgers at Camelback Ranch. As you can see by the photos below, we had amazing seats right behind home plate. We had a great time and had now seen both of our hometown LA teams in action. Our seats allowed me to get a few great shots including several of probable NL MVP, the Dodgers Cody Bellinger. Since Camelback Ranch is also the Spring Training home of the White Sox, I asked one of the concessionaires to pull a couple of White Sox souvenir cups out for my boys back home in ChiTown.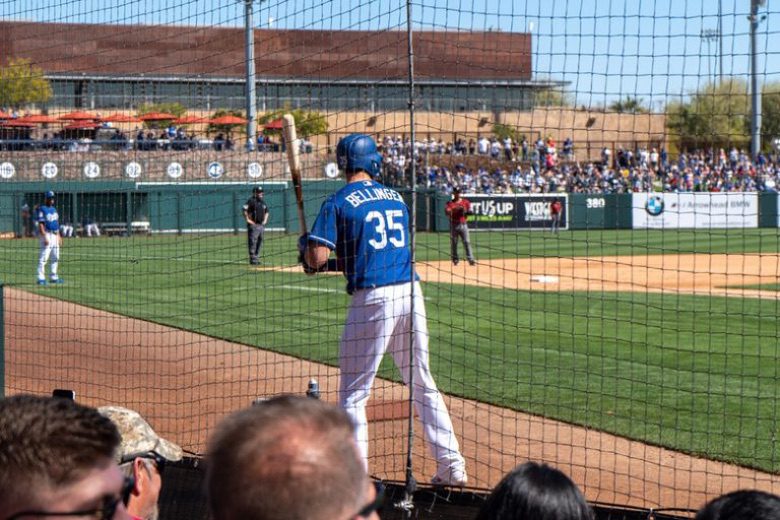 There really is something special about attending spring training games. Everyone seems more friendly and are just glad to be at a ball game. One of my favorite aspects of all of the stadiums we visited was the grassy areas in the outfield that allowed parents to spread a blanket and enjoy the game while still playing with the little ones.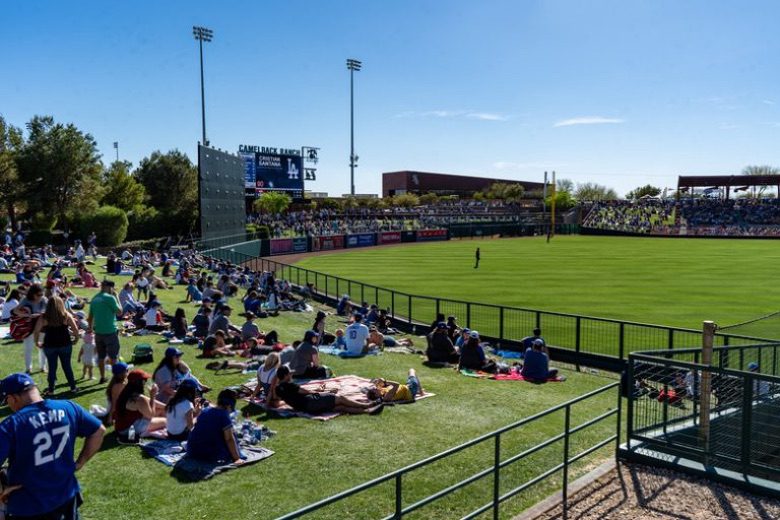 That evening, we headed to Bourbon & Bones for dinner. Now, if there has ever been a restaurant named to entice me, it has to Bourbon & Bones. Located in Old Town Scottsdale, B&B calls itself an "unconventional steakhouse". Their drink menu offers an extensive list of 320 bourbons, whiskeys and scotches. I chose the Imperial Old Fashioned and found my new favorite cocktail. For dinner, after hearing my hosts order (I always feel a little weird ordering something outrageously expensive off the menu on someone else's dime) there was only one choice I could make. The 32oz. dry-aged bone-in ribeye. If you are a meat-lover, you must try this charred on the outside and buttery smooth on the inside hunk of meat at least once in your life. As you can see below, after a few cocktails we decided to have a little fun. Check out Ryan's face to my right.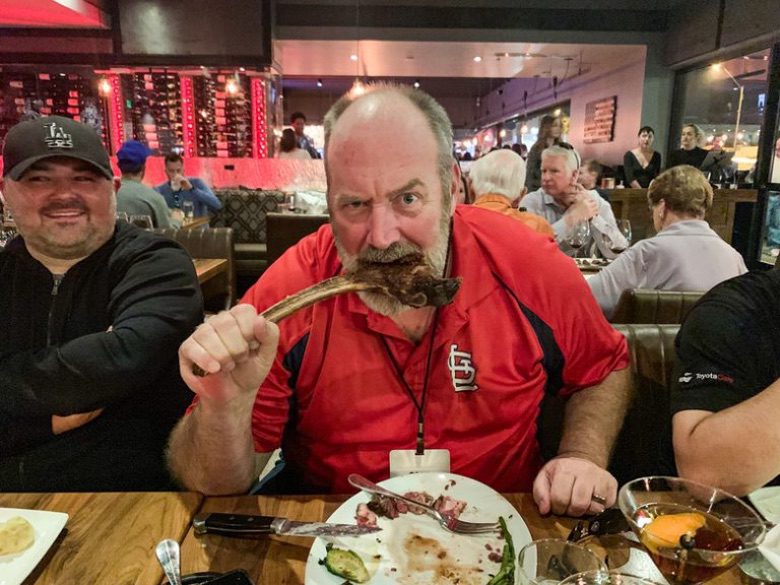 Toyota Grand Slam Day Three
We slept in a bit on day three and wandered down late morning to the group breakfast buffet set out for us each morning. I am a fan of hotel breakfast buffets (I know, not exactly gourmet dining at it's finest), but the Talking Stick buffet was impressive. In particular, the bacon was exquisite. Applewood-smoked and cooked crispy, unlike that saggy, greasy strips you find most at other hotels.
For our last Spring Training game of the trip, we were scheduled to see the Angels vs. Padres at Peoria Stadium. We again had amazing seats right behind home plate. I was loving all this baseball and seeing a variety of stadiums.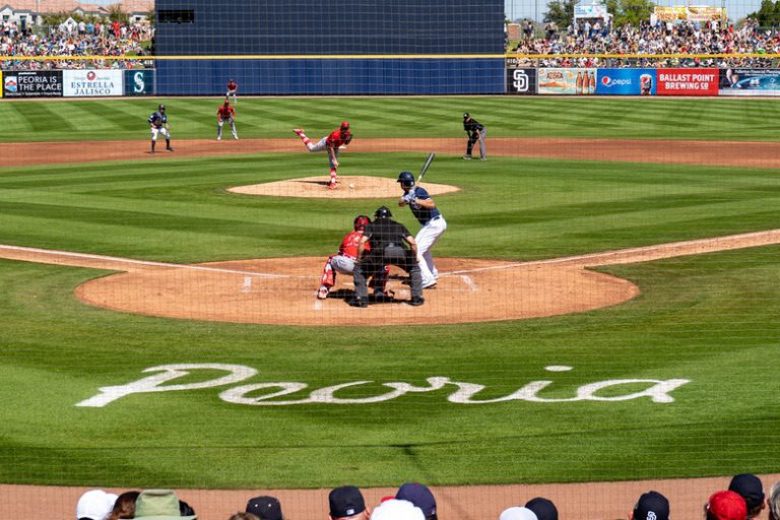 Our final planned event was that evening at Top Golf on the grounds at Talking Stick Resort. A buffet dinner was provided for us and we headed outside to hit a few balls. I'll admit, I was a little hesitant. I hadn't swung a club in over a year since I had hip replacement surgery a few months before. My first couple of swings were a little disorienting. As I said, I hadn't swung in a while and I had never taken shots from the edge of a ledge 30 feet up in the air. After a bit though, I settled in a hit the ball surprisingly well. We competed in a few fun competitions with each other then called it an evening.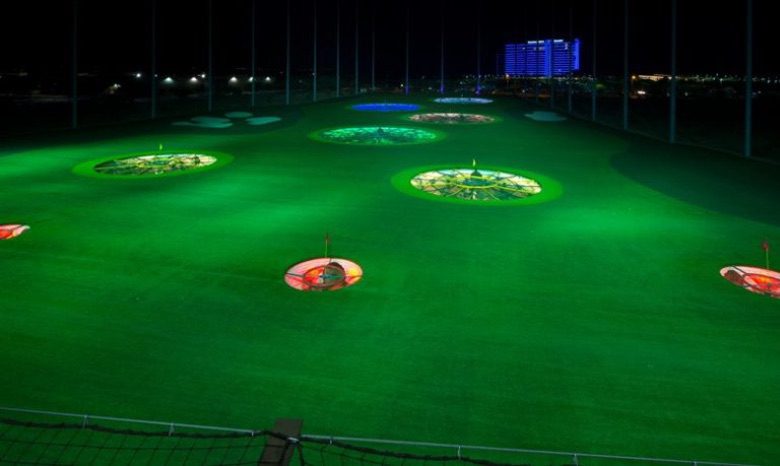 Heading Home
Our time in Phoenix was at an end and it was time to head back home. I am extremely thankful to Toyota for inviting me on this trip. It was great to get some quality time with Ryan and to bond over two things I love, driving trucks and baseball. I can't wait for my next Toyota adventure.