Sports
Is This Heaven? No, It's Omaha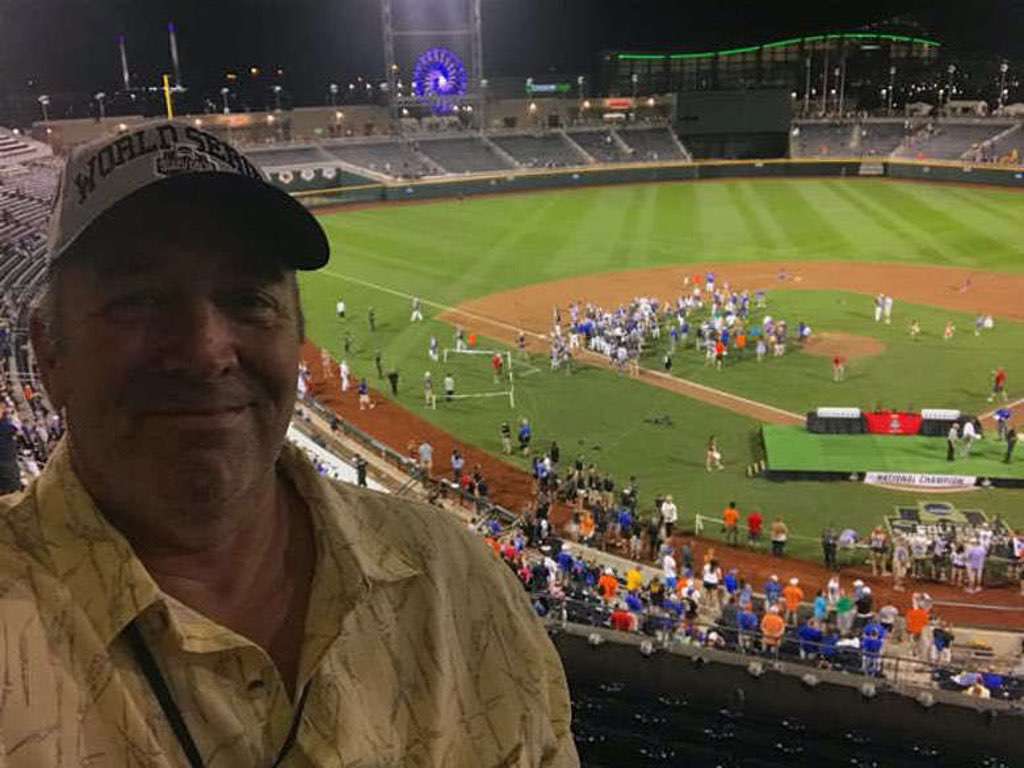 Once-in-a-lifetime is a phrase that is often overused. Many things, although cool and unusual, will likely happen again at some point in our future. I can say without a doubt that traveling to Omaha to participate in the Pizza Hut All-American Experience; getting a behind the scenes tour of TD Ameritrade Park, home of the College World Series; and watching the Florida Gators defeat the LSU Tigers to win the NCAA Division I Baseball Championship from a skybox behind home plate, all in one day, truly was once-in-a-lifetime.
The Pizza Hut All-American Experience is a partnership between Pizza Hut and the NCAA. One social media savvy fan who is passionate about NCAA sports would be chosen to attend every NCAA championship through the 2016-2017 season and document their experiences. The lucky winner, Jason Zone Fisher has over the past 8 months traveled over 70,000 miles and attended 33 NCAA championships in 25 different cities. In addition, Jason shared over 10,000 slices of Pizza Hut pizza with NCAA fans across the country. The College World Series would be the final stop on this epic tour.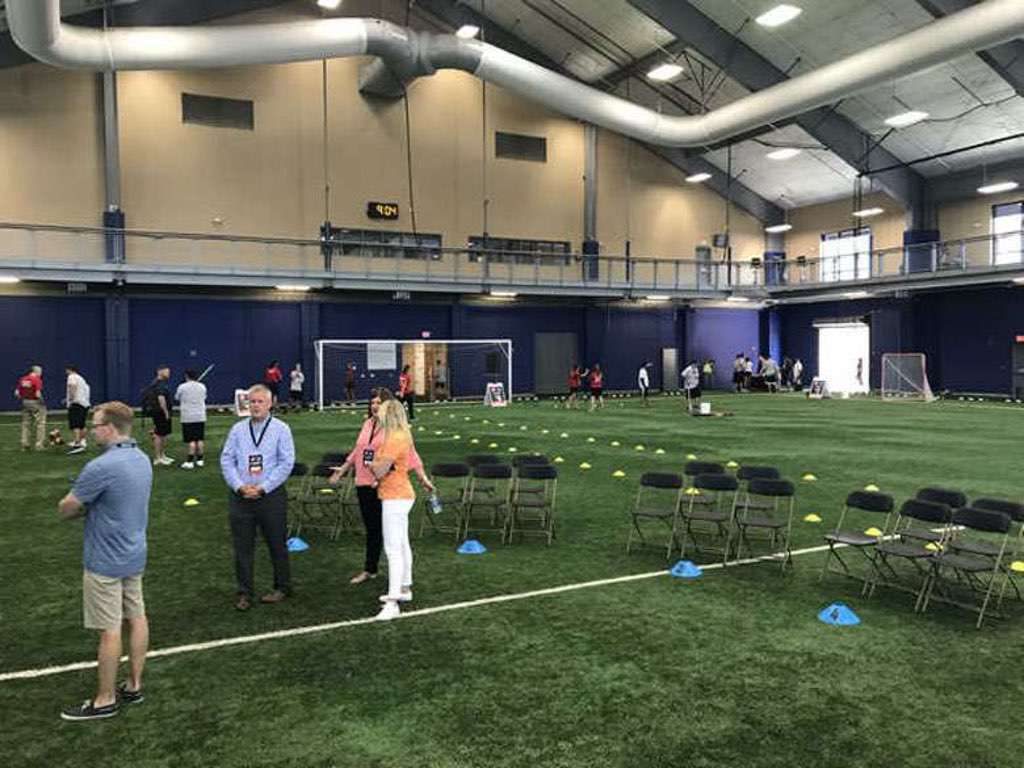 After a quick breakfast at the hotel, we were loaded onto a bus to take us to Creighton University, the site of the All-American Experience. Upon arriving at Creighton, we entered the field house and all 10 events we would be participating in were laid out. Each event/sport would be overseen by a former NCAA All-American athlete.
Luckily for us, the events were designed more to give us a chance to interact with the All-Americans than to test our athletic prowess. We're journalists and for most of us, our athletic glory days are nothing but a distant memory. All of the participants were divided into teams and we headed to our first station.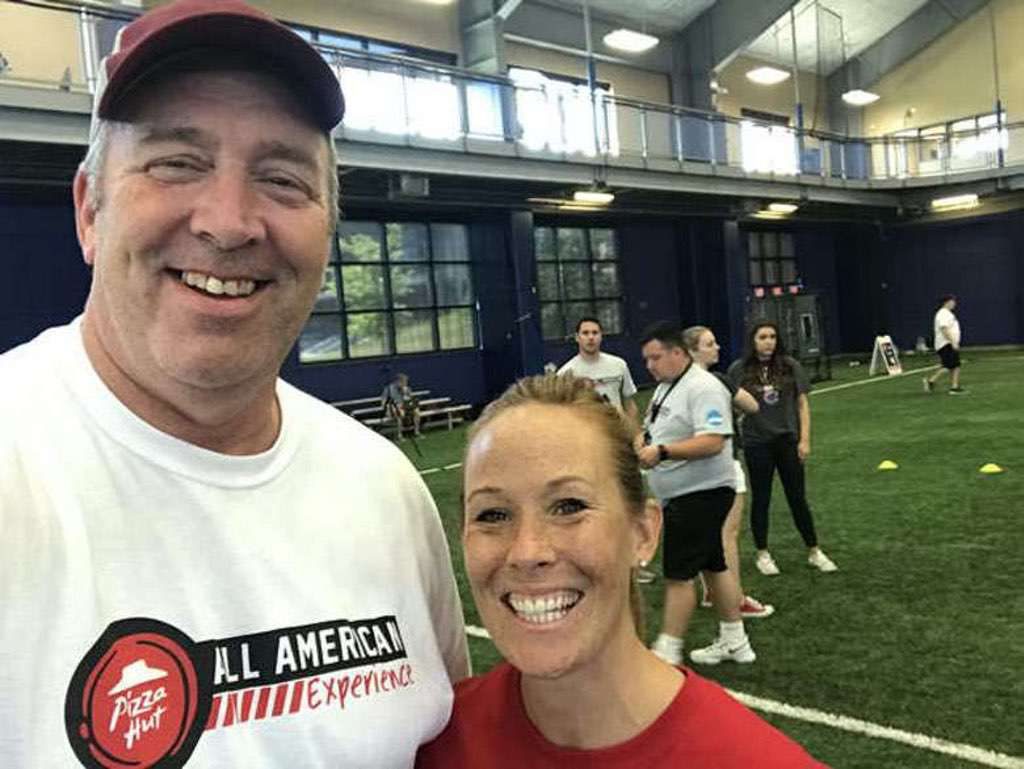 First up was Field Hockey with Wake Forest All-American and three-time Olympian Lauren Crandall. I'll be honest, I'm not very familiar with field hockey and was surprised to learn from Lauren that you can only use one side of the field hockey stick and it's a penalty to use the wrong side. Lauren explained that for this challenge, we had to dribble the ball, weaving between cones and then take a shot at the goal. The fastest time would win and there was a three-second penalty for missing the shot. I actually tied for the fastest time and was so amazed and my new mad field hockey skills that I blew the shot. All-American Challenge: 1 – Greg: 0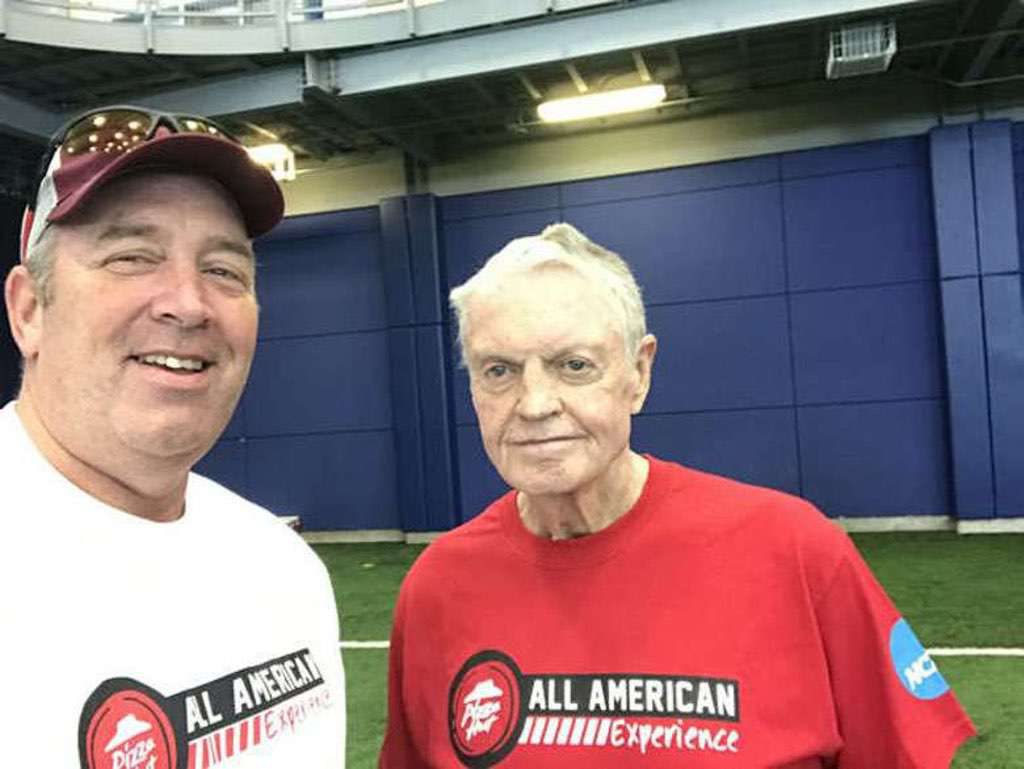 Next up for my team was football with legendary Nebraska head coach and NCAA Hall of Famer Tom Osborne. The idea was to toss 10 footballs at a target from three different distances. The farther back, the more points. I took most of my tosses from the farthest line (there's that athletic machismo that has gotten me in trouble so many times). I only managed to put one through, not one for my personal memory book, but several people were impressed by the velocity and tightness of my spirals. All-American Challenge: 2 – Greg: 0
It was time to head over to the 40-yard sprint and two-time DIII All-American Noah Droddy. Now Noah is not what you would expect out of a world-class runner. Long-haired and mustachioed, he definitely marches to the beat of his own drummer. After explaining that hip replacement is in my near future, we both agreed it was probably best that I sit this one out. That gave me a chance to spend some time and really bond with Noah. My time with him was one of my highlights of this trip. All-American Experience: 3 – Greg: 0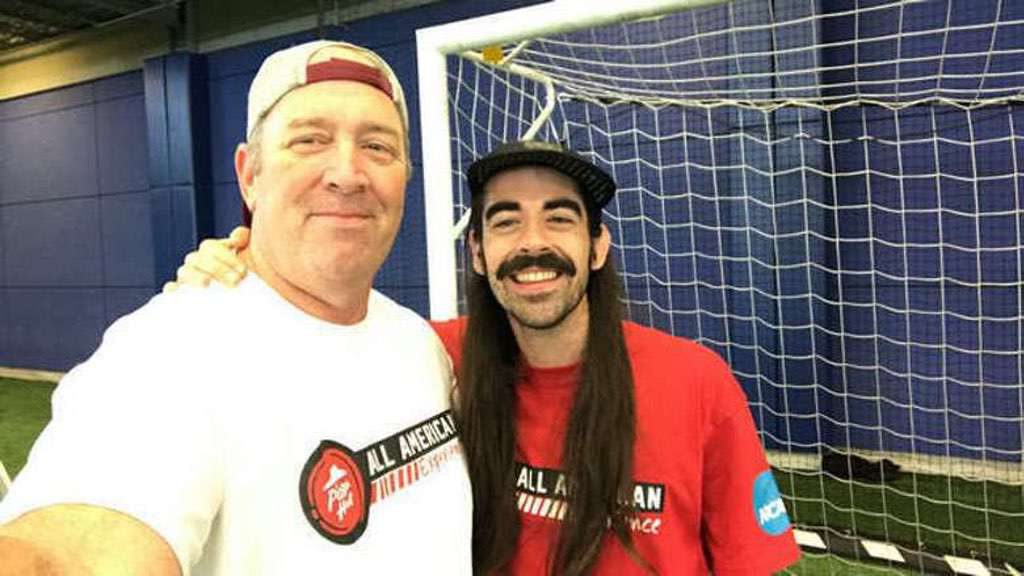 Our fourth event was golf with LPGA pros, McKenzie O'Connell and Kris Tschetter. Now we're getting to my sweet spot. This was a pretty simple event, Drain as many putts as you can from 10 feet. I nailed 6 out of 10 including 5 in a row at one point. I left two right on the front edge to keep me from taking this event, but still respectable. All-American Experience: 3 – Greg: 1
The last event of the first half was Lacrosse with Paul Rabil. Paul plays for the New York Lizards in Major League Lacrosse and is a member of Team USA. I have always been a little fascinated with Lacrosse but have never given it a go. The event was simple. Record the fastest radar-timed goal you can. My first shot tied the high score to that point. Paul mentioned that most people don't start whipping the ball that hard on their first shots, so I took a little pride in that. My score was later beat, but I held my own. All-American Experience: 3 – Greg: 2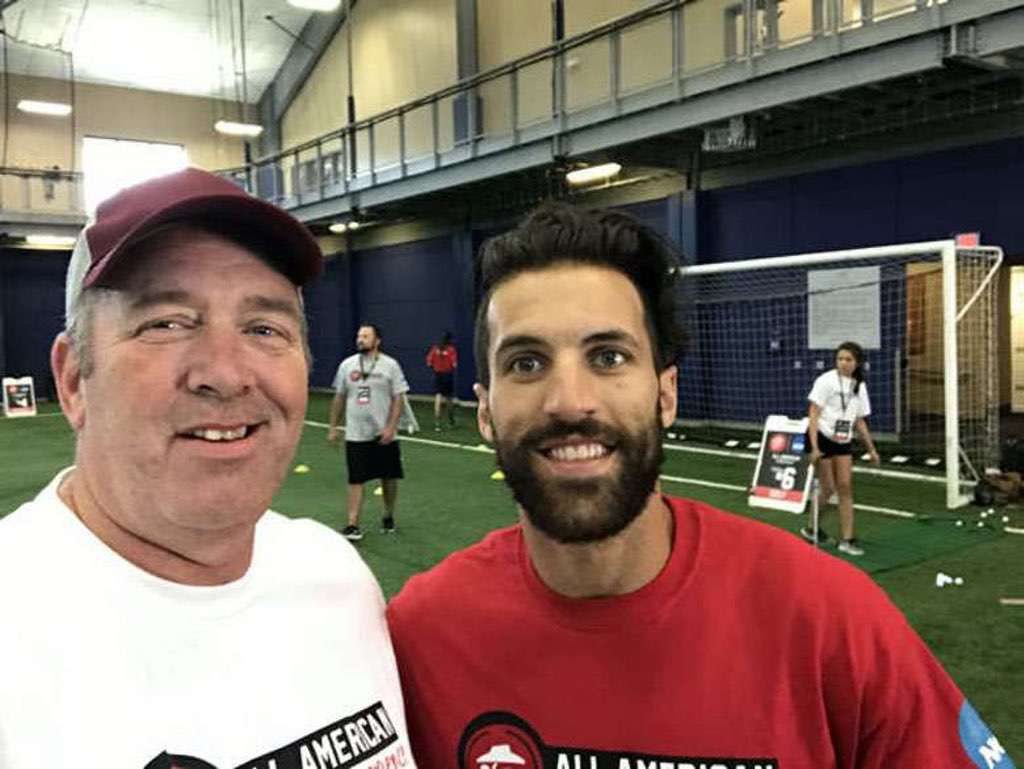 During halftime, had a quiz contest about various NCAA sports. I knew the real purpose was to give us a little breather so no one would up passing out and I was happy to sit for a bit.
The first event of the second half was soccer with Taylor Twellman, former MLS star and currently a soccer analyst for ESPN. For this event, there were three targets set up along the bottom of a standard soccer goal and two at each top corner. Taylor told us if you called one of the top goals and nailed it, you get mega points. Naturally, I chose to keep going after the top targets (I'll never learn). Having not kicked a soccer ball in like 30 years, I kicked pretty well and came very close on a number of shots. Unfortunately, I pulled a goose egg. All-American Experience: 4 – Greg: 2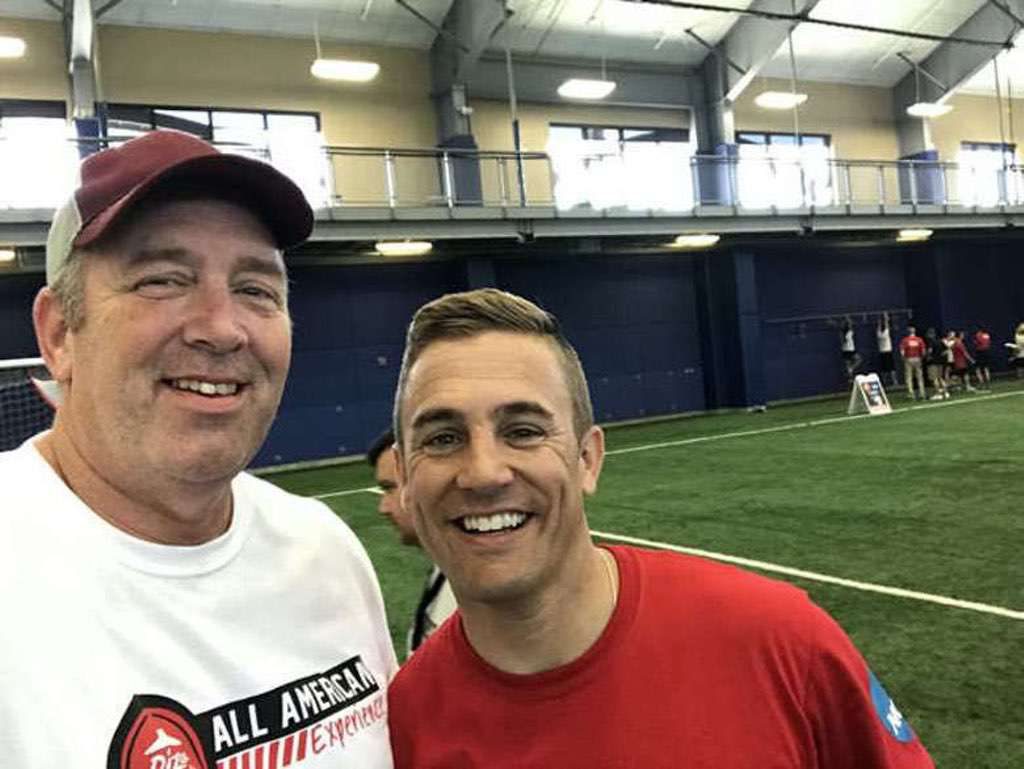 Event number six was gymnastics with World Champion and three-time Olympic medalist Paul Hamm. Paul is the only male American gymnast to win all-around at Worlds and the Olympics. The gymnastics event was two-parts. First, we were to hang from a bar as long as we could and then see how long we could perform a handstand. I probably should have conceded, but I managed 20 seconds on the bar before passing on the handstand. I'm stubborn, but all I could envision was me coming crashing down on my face. All-American Experience: 5 – Greg: 2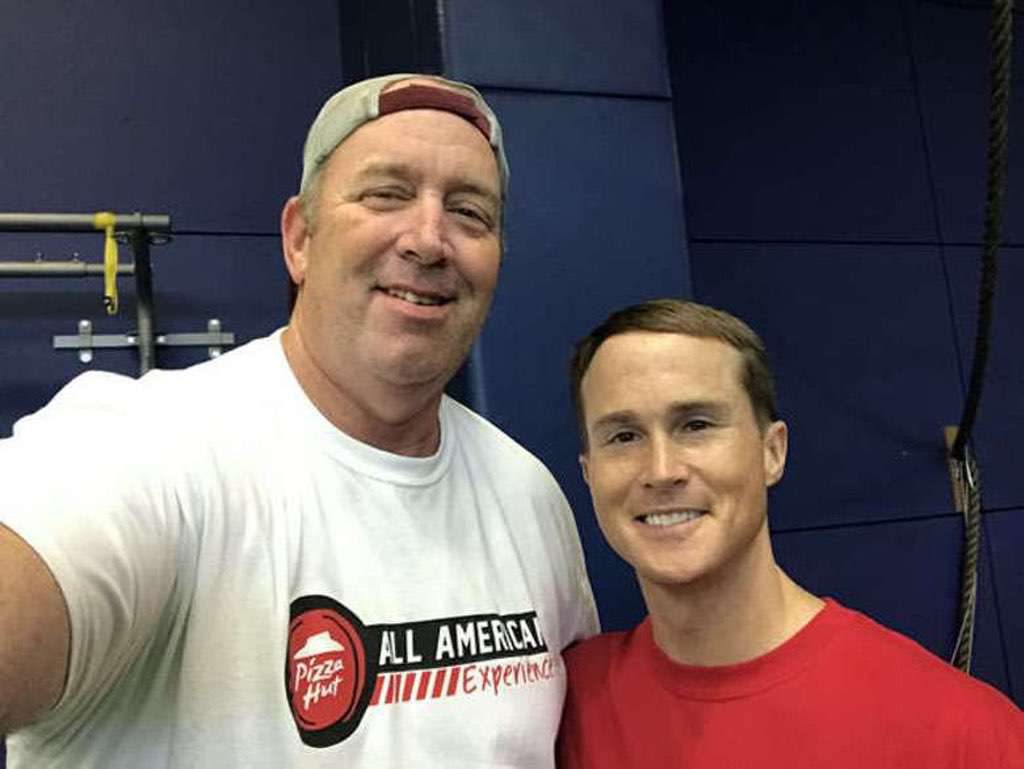 Next up was volleyball with Courtney Thompson. Courtney's accolades are too many to mention, but she's a two-time Olympic medalist, world champion, and three-time NCAA All-American. This event required us to bump a volleyball back and forth between two team members as many times as you can. Seems simple, unless you have tried it before. My partner Chris and I just couldn't seem to get into a rhythm and I believe our best run was 16. All-American Experience: 6 – Greg: 2
Entering the home stretch, event number 9 was baseball with Toronto Blue Jays World Series hero Joe Carter. Joe is only the second player in Major League Baseball history to win a World Series with a walk-off home run. After a quick lesson from Joe on his signature bat bounce before entering the batter's box, it was time for a little whiffle ball home run derby. I started things off with a bang, crushing the first pitch over the wall. I then proceeded to skunk out on the next 9. My most disappointing showing of the day so far. All-American Experience: 7 – Greg: 2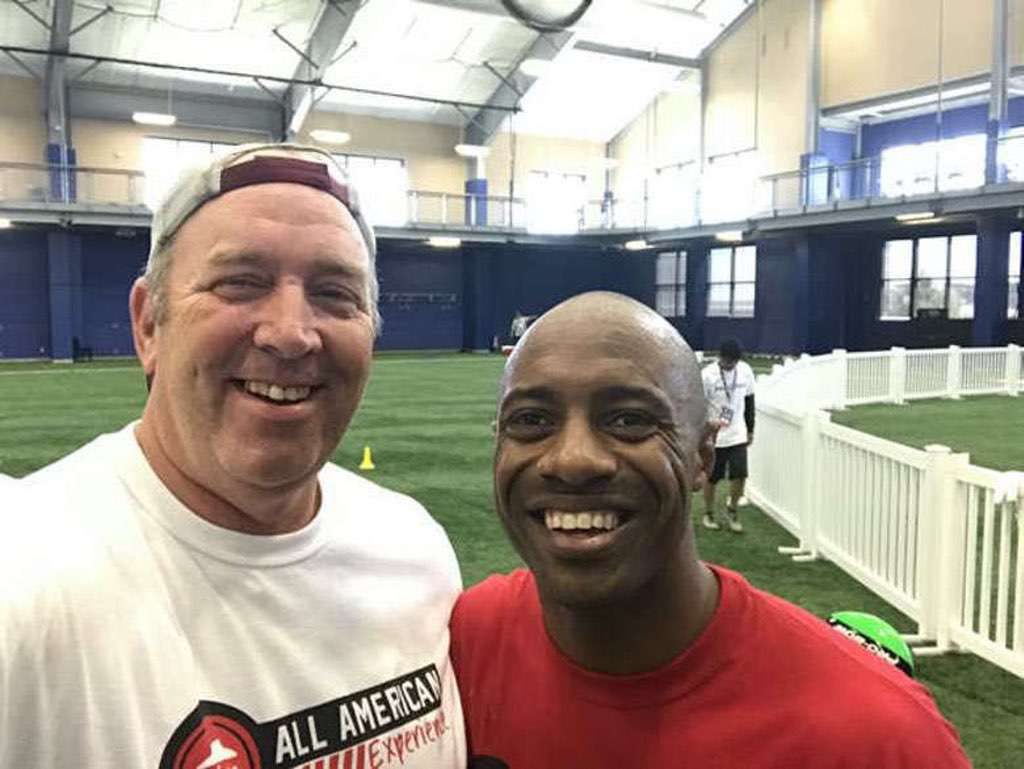 Finally, the last event, basketball with Duke All-American and former Chicago Bull Jay Williams. Jay is currently an analyst for ESPN and despite his amazing career, he was running all over the field house participating in some of the events with us. This was a pop-a-shot game with us trying to make as many baskets from 10 feet as we could in one minute. I scored 20, again respectable. Experience: 7 – Greg: 3
In one of the day's funniest moments, Joe Carter snuck up behind Jay as he was preparing to take a shot and put a monster block on him. It was pretty cool seeing these star athletes running around and acting like kids.
Now that the competition was wrapped up, we headed up to a skybox at Creighton's soccer stadium for lunch and a round-table discussion with the All-Americans hosted by the Pizza Hut All-American Jason Zone Fisher. This was our opportunity to ask the athletes in a relaxed forum. One thing that really stuck in my mind was Taylor Twellman sharing that he was 0-11 in championship games in his career. That he will never know the experience that Joe Carter had with the 1993 Blue Jays and the bond that was formed between them. It really makes you think about what a rare and special accomplishment any championship is and how they should be savored. At the conclusion of lunch, we were all presented with an autographed, framed photo of us with the All-Americans and a personal pizza pan embossed with "I survived the Pizza Hut All-American Challenge" Perfect memento for this trip.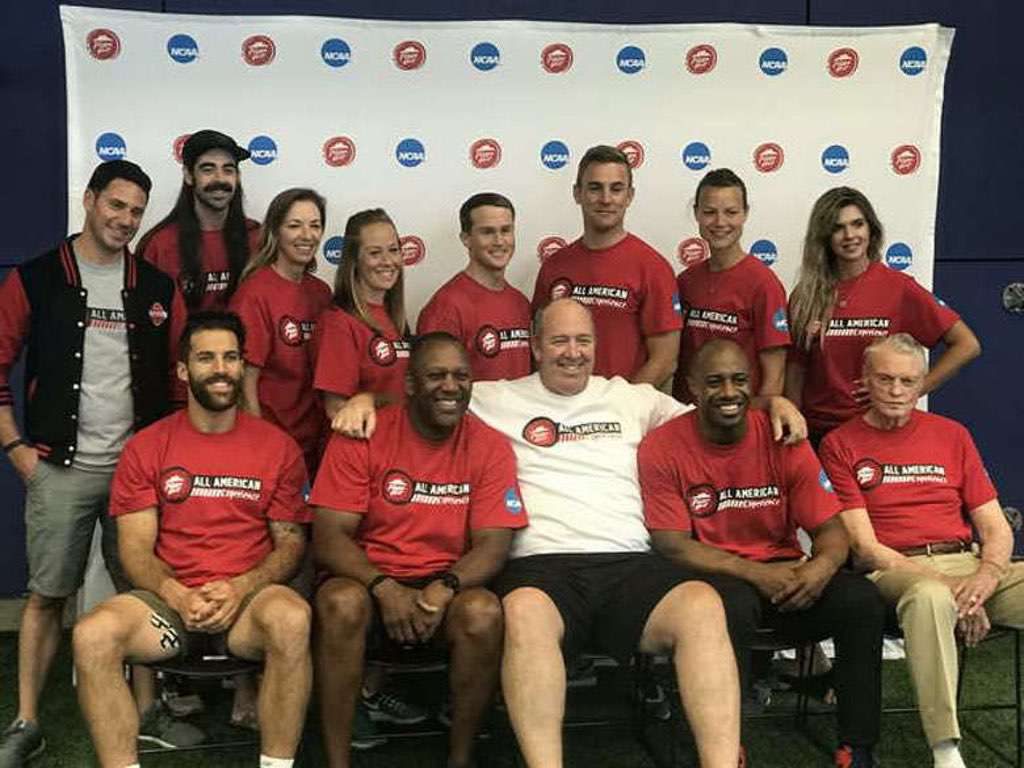 Now, you would think that this was a pretty amazing day already, but I'm only getting started. We still had a behind the scenes tour of TD Ameritrade Park, the home of the College World Series and of course, the game itself.
We immediately led out of the player's tunnel into the first base dugout, LSU's home for the upcoming game. We were allowed to explore and roam the field for a bit before the grounds crew needed us out. Some headed to the outfield wall to jump and make imaginary home run-robbing catches, others hung near the dugout and I just sat down in the outfield and soaked in all in. I have played a lot of baseball in my time, but I have never seen grass this green and smooth outside of a golf green. As Shoeless Joe said in Field of Dreams, "I'd wake up at night with the smell of the ballpark in my nose, the cool of the grass on my feet… The thrill of the grass."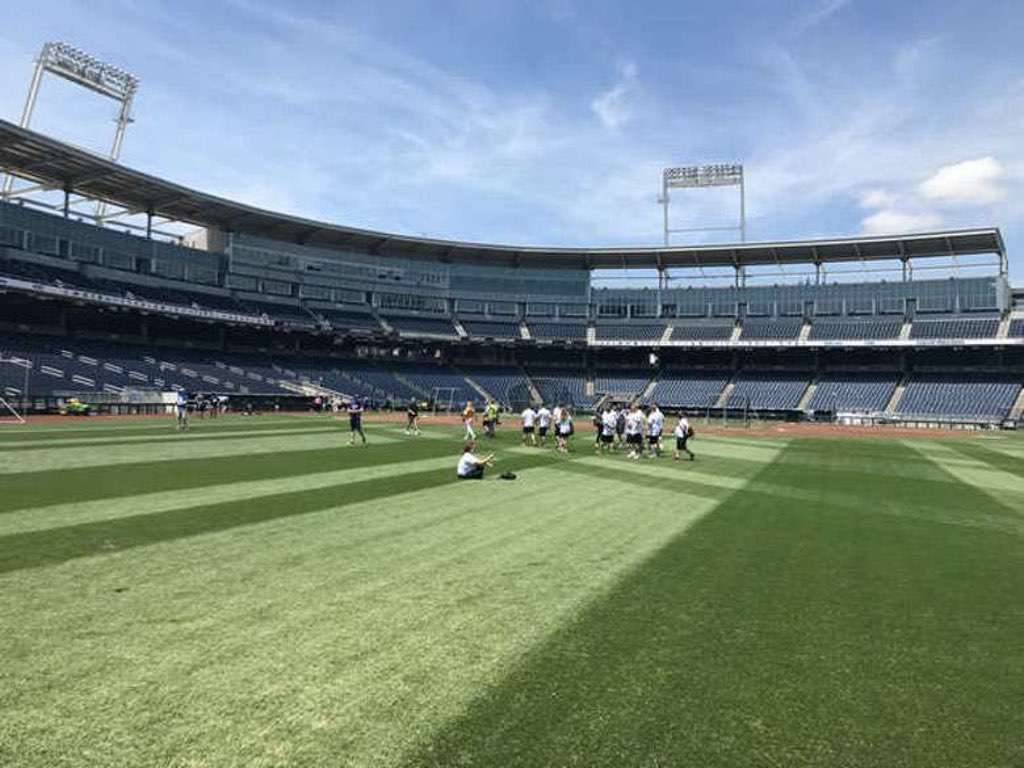 Wrapping up our on-field antics, we headed back inside and spent some time in the visitor's locker room. I can't even imagine the crushing disappointment that would fill this room only a few hours later.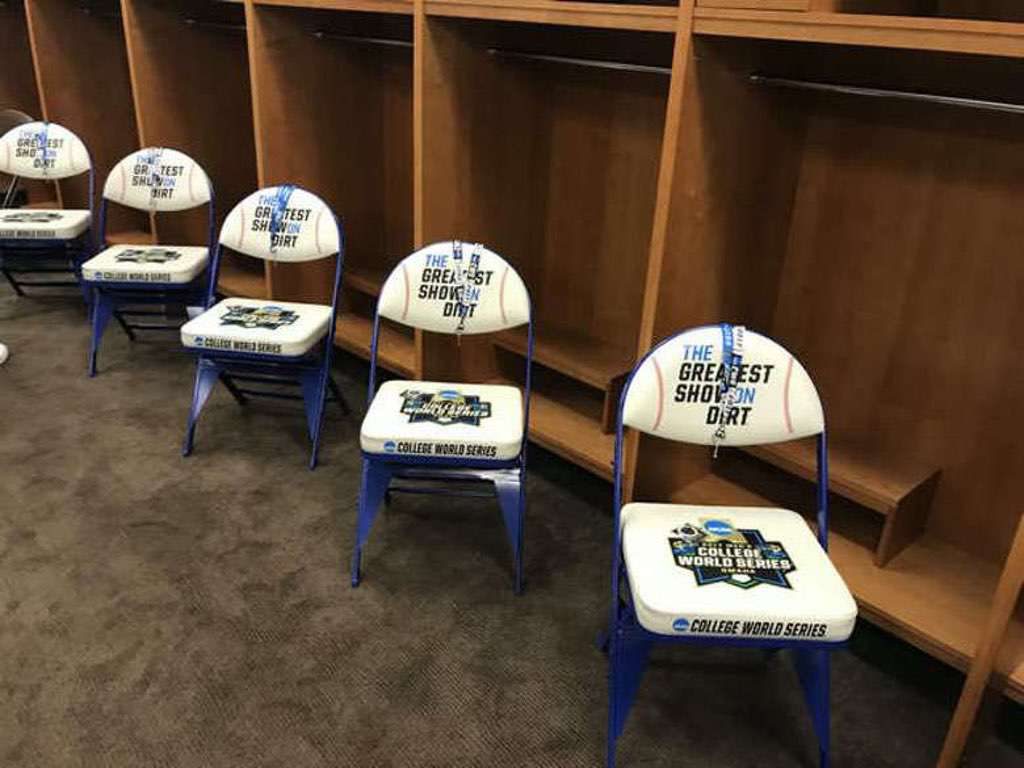 Our final stop of the tour was the press room where player's and coaches are interviewed after the game. The NCAA even had the actual championship trophy in the room for us to hold and have our pictures taken.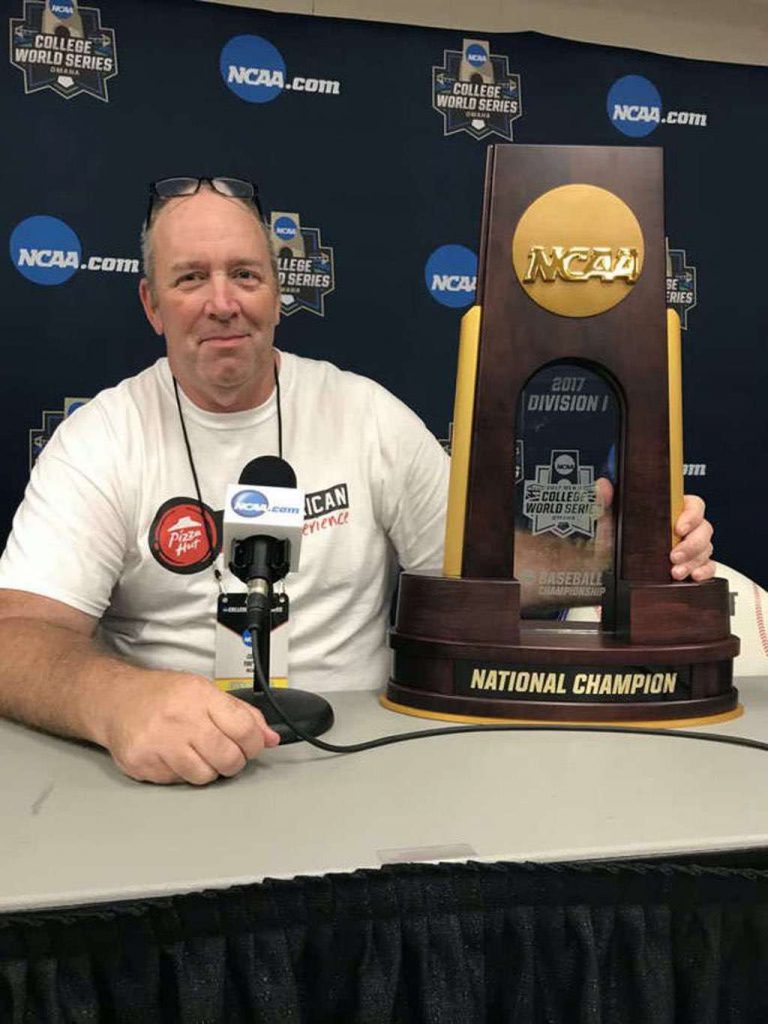 Back on the bus once again, we headed back to the hotel for a couple of hour break (nap) and to get ready to head back to the stadium for that night's game.
We entered the stadium and headed upstairs to our suite. Pizza Hut came through again. Our box was on the second level behind home plate and we had a perfect view of the field. I didn't have any skin in the game regarding Florida or LSU, although it would be pretty awesome to see a national championship in Florida won, which turned out to be the case.

One incredible day that was indeed a once-in-a-lifetime experience. Pizza Hut and the NCAA really took care of us and provided a top-notch experience and Jason Zone Fisher was a perfect host as he ended his reign as the Pizza Hut All-American.