Features
Celebrate Christmas at HGTV's Santa HQ at The Oaks
This is a sponsored blog; while the views expressed here were genuinely mine, consideration was paid to me by Macerich/HGTV's Santa HQ.
Tis the season and our favorite and most cherished holiday tradition is a visit with old St. Nick. HGTV takes the visit with Santa experience to a whole new level with their immersive, interactive holiday experience
with the use of state-of-the-art digital technology at the HGTV Santa HQ.
The experience invites guests to customize their individual experience by using augmented reality to view Santa's Workshop and Observatory in magical ways. Visitors can download the Elf-Ray Vision app or use a provided tablet to discover the enchanting world of Santa HQ in stunning 2D or 3D digital scenes. Families can continue their adventure with a custom photo opportunity and an in-person visit with Santa inside his modernized sleigh.
Santa HQ is available in some of the most attractive and densely populated U.S. markets including California, Arizona, Chicago, Metro New York, and the Washington, D.C. corridor.
Activities
We visited Santa HQ at The Oaks in Thousand Oaks, California. After checking with one of Santa's elves about our fast passes, our first activity was the Naughty or Nice O'Meter. The kids stepped onto a pad and the meter determined how naughty or nice they have been this year. After they receive their rating, their names show up on either the naughty or nice boards.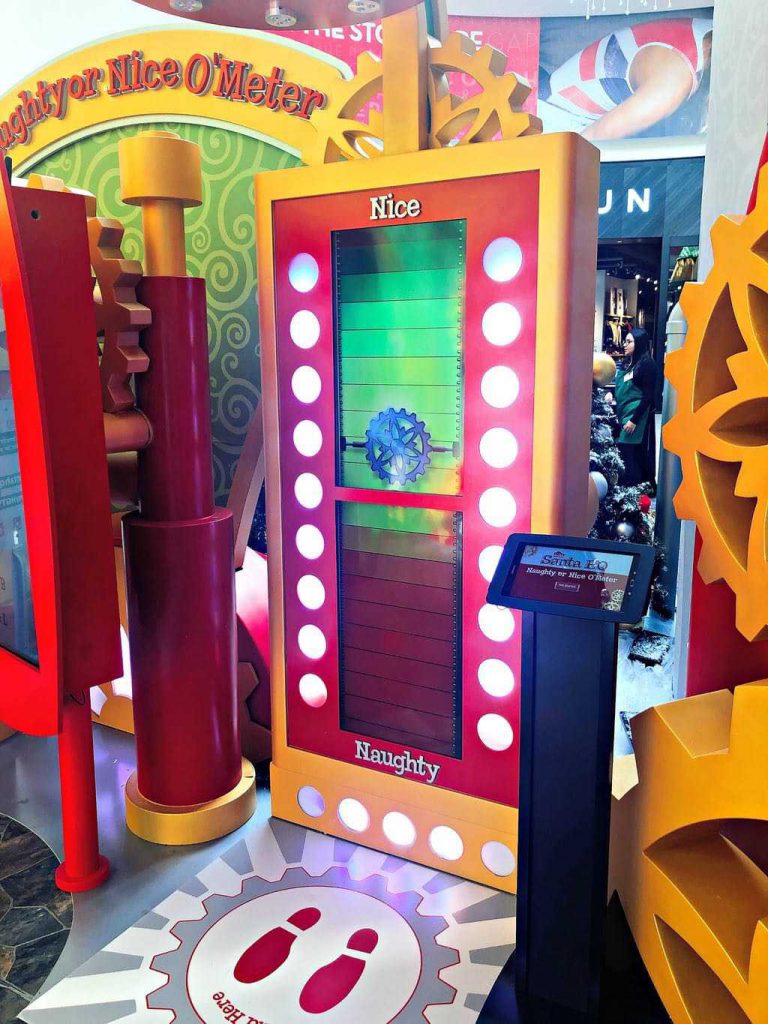 Next, we moved into the HGTV Santa HQ Elf Academy. The kids created their very own Elf ID card complete with their picture and were able to choose their favorite elf outfit. After they emailed their ID's to Dad, we moved over to the Magic Mirror. Using augmented reality, the magic mirror shows the kids dressed in a variety of elf costumes and snaps selfie photos which can also be emailed to a parent.
The final activity was Santa Observatory. The kids were given digital tablets and they were instructed to point them at various markers around the room and on the ceiling. Again, augmented reality presented the kids with an inside view of Santa's workshop.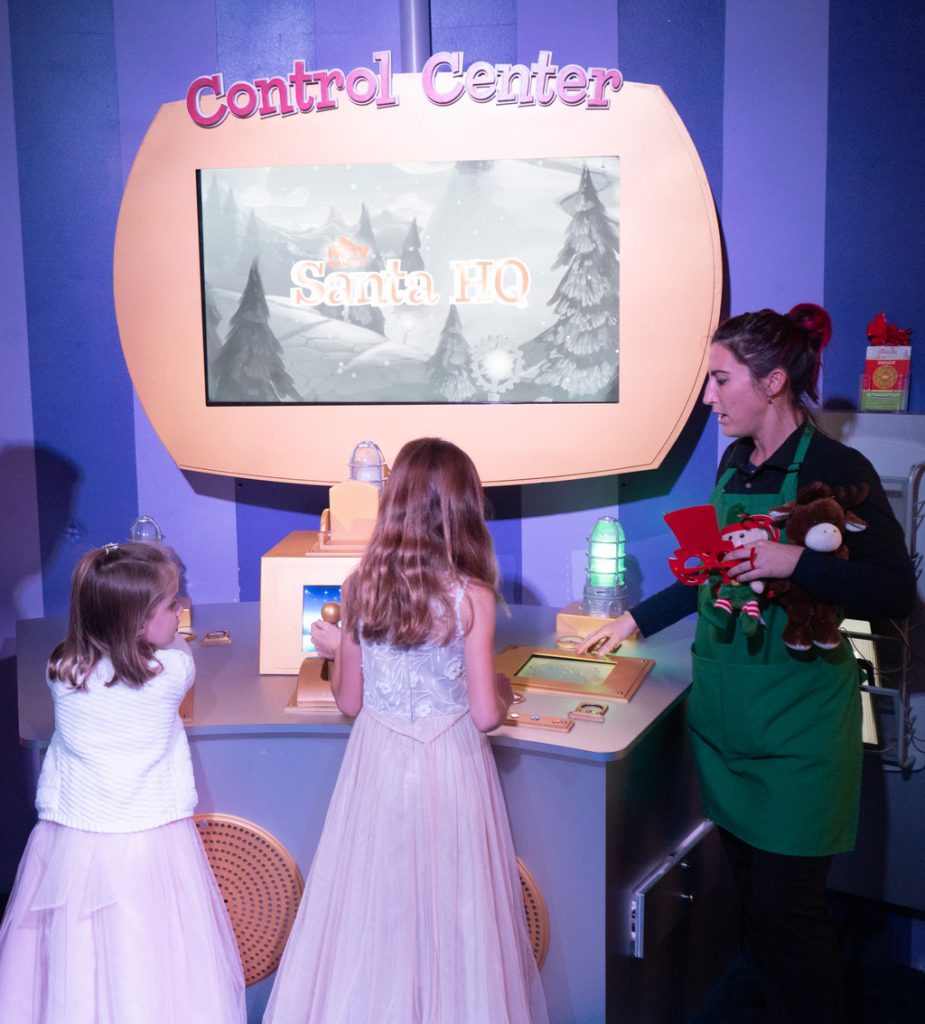 After leaving the Elf Academy, we had our first portrait opportunity. Several photos were taken, including a standard portrait and silly one in which the girls were given props and Christmas glasses.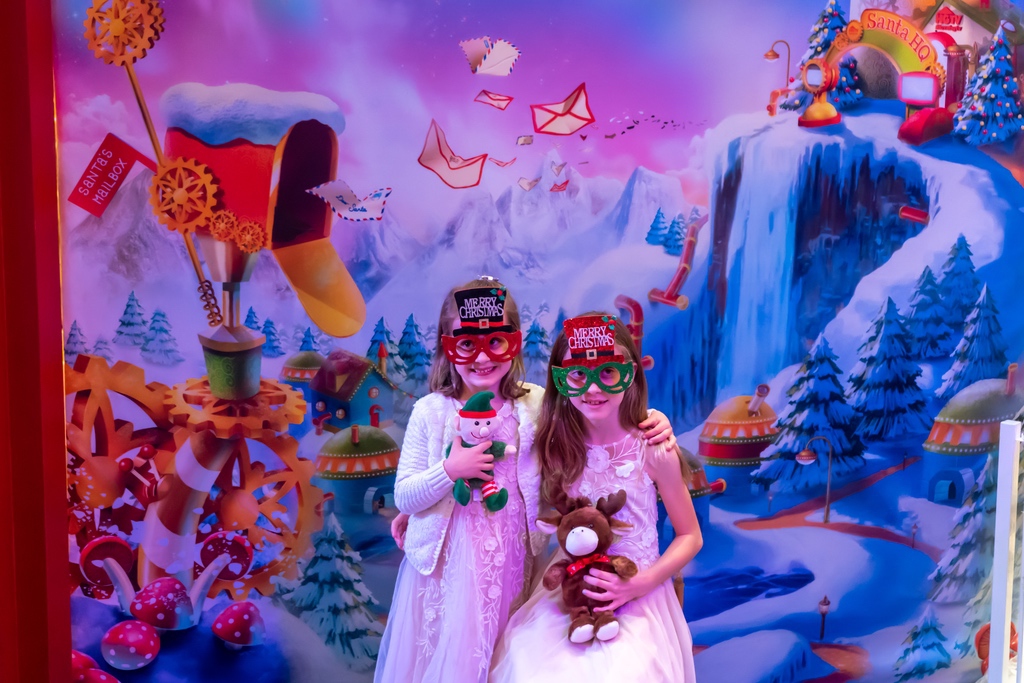 Finally, it was time to see the big guy. That moment when kids have an opportunity to tell Santa about that special gift they have been dreaming about all year. After spending time with the kids, it was time for the traditional photo opportunities with Santa Claus, with a variety of photo packages families can choose from.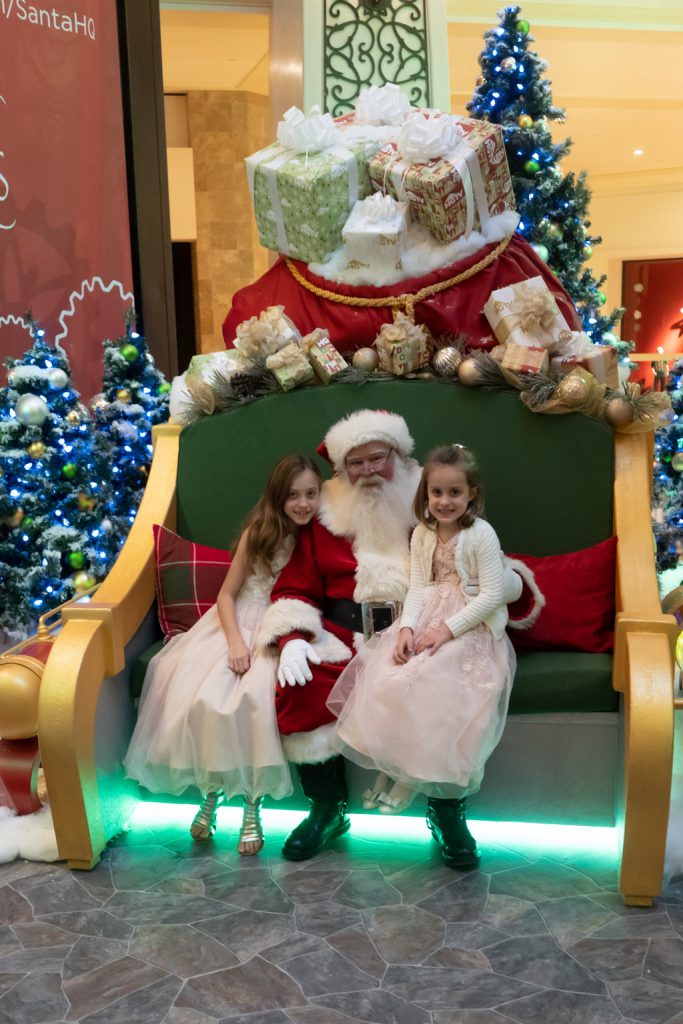 Special Events
In addition to the standard visit with Santa, there are also a number of special events available. Events, dates, and times are specific to each Santa HQ center, so check with your center for more details.
Sensory Santa: This sensory-friendly holiday event at Valley River Center allows families with all spectrums of special needs to experience the time-honored tradition of a visit with Santa, in a comforting environment prior to public hours. Accommodations are made to support the sensory, physical, and developmental needs of this special audience.
Yappy Hour: Special event for you and your furry friend to get time with the "Big Guy." Bring your dog or cat to participating centers for an exciting night of pet photos, cocktails and holiday cheer.
Meet Santa's Elves: Have fun with Jack & Strawberry, the official elves of Santa HQ. Kick-off the holiday festivities and enjoy caroling, photo opportunities, storytime, hot chocolate and much more.
HGTV's Help Through Holiday Giving Drive
HGTV's Help Through Holiday Giving Drive encourages visitors to donate toys for underserved children during the holiday season. In past years, HGTV's Help Through Holiday Giving has collected more than 66,000 toys benefiting local organizations such as Forgotten Angel Tree, Salvation Army Angel Tree, Toys for Tots, and Spark of Love Stuff a Bus.
Check out the video from our visit below.
Skip the Lines with Fast Passes
While we also love our time with Santa, sometimes the waiting lines can be a challenge, especially with younger kids. The beauty of Santa HQ is that you can visit https://www.shoptheoaksmall.com/SantaHQ to secure a Fast Pass and pre-purchase a photo package. Guests can select the date, a 30-minute window of time to use Fast Pass, pre-pay online, upgrade their package by adding a family photo weeks/days in advance, and opt-in to receive text reminders about their Fast Pass window.
Book your fast passes now and treat your kids to the ultimate Santa experience at HGTV's Santa HQ. Make sure you tag your social media photos with #SantaHQ. I'd love to see them!
Huge thanks to Mitch, Kelley, Morgan, and Eva for joining us for this fun day!