Home
Architect Designs and Builds a Cabin Getaway for His Father (9 Photos)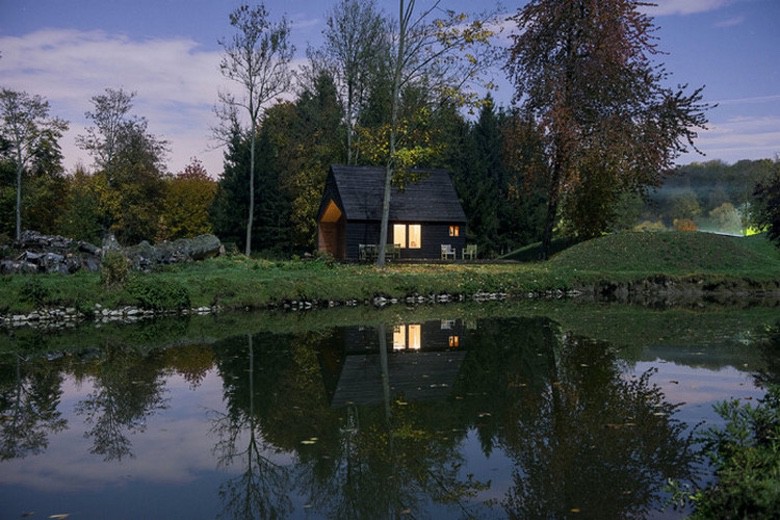 Alongside a lake in the wooded village of Nouvelles, Belgium sits a cozy wooden cabin. It is small, 115 sq. ft., and replaces a once-crumbling timber structure.
The cabin, nestled in the naturally beautiful landscape, is built of milled wood from the very forest in which it sits. The designers, London-based De Rosee Sa Architects, recently completed the project that was prompted by the director of the firm, Max de Rosee.
Their intent was to economically and efficiently build a cabin that could serve many functions. Generally, the cabin had to work as a guest house, studio and gathering space for picnics or BBQs. In the interior, it had to accommodate working, sleeping, and other socializing needs – all within a $38,000 budget.
The result is simple, and effective. The architects were able to complete their vision by doing a large part of the construction themselves and using locally-sourced materials. De Rosee claims this was "a chance to bond as an office, further our understanding of materials and construction, and increase our respect for builders."
In addition to concrete and brick, timber beams, milled from surrounding forests by Max de Rosee's father, give structure and bring the region's natural beauty to the interior of the cabin. Of this decision, de Rosee says, "My father has a passion for the natural environment; it was his idea to mill trees that had been ravaged by a storm some 7 or 8 years ago and build a cabin from them."
De Rosee Sa further engages the countryside in the space by paying special attention to the openings and viewpoints to and from the cabin, with each boasting a natural advantage. At night, you can see the windows aglow by the wood-burning fireplace that heats the cabin. The mood is comfortable, inviting, and all-natural.